Flushing Township Nature Park
8301 N McKinley Rd
Flushing, Michigan 48433
Facebook Page
Park Hours: Dawn to Dusk

The Flushing Township Nature Park features over a mile of board walk, three miles of groomed trails, a spectacular observation deck, 1/2 mile of handicap cement trail, a storage pole barn, a pavilion, park office, bathroom facilities, playground, kayak access, and paved parking. In addition, the township has been the recipient of many Eagle Scout projects, some of which include the picnic tables, trail benches, the prairie observation deck, numerous birdhouses, and our cedar flagpole.
The Flushing Township Nature Park acreage originally was platted to be a subdivision connected to the existing Brentwood subdivision. In 1992, then Supervisor Granville Auker suggested that the vacant land would make a great township park. 
We would like to thank the Community Foundation of Flushing for the donation of benches and handicap accessible tables for the Nature Park.
Damage to Nature Park

If you see anyone damaging the Flushing Nature Park, please call 9-1-1 to report to our police department.
Pavilion
The Pavilion can be reserved for a $50 non-refundable fee. If you have questions, contact the township administrative office at 810-659-0800.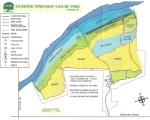 Nature Center Park Map